Simon Phillip Cowell
(born October 7, 1959) is an English record executive and television personality who first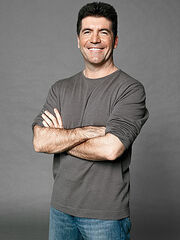 became well known to American audiences as a judge on
American Idol 
for that show's first nine seasons (2002-2010). He went on to become a judge on The X Factor USA from 2011-2013. He will now be a judge for season 11 of 
America's Got Talent
.
Season One
For the first season (2011), Cowell mentored the Girls category. His acts were Rachel Crow, Drew Ryniewicz, Tiah Tolliver, Simone Battle, and the winner Melanie Amaro.
Season Two
For the second season (2012), Cowell mentored the Groups category. He did the same in 2010 on the UK version of the show, and One Direction resulted from it, making the audience very hopeful for the groups. His acts were Fifth Harmony, Emblem 3, Lyric 145, and Sister C.
Season three
For the second season in a row, Cowell mentored the Groups catagory. His acts were Alex & Sierra(who won), Restless Road, Sweet Suspense, and RoXxy Montana.
Ad blocker interference detected!
Wikia is a free-to-use site that makes money from advertising. We have a modified experience for viewers using ad blockers

Wikia is not accessible if you've made further modifications. Remove the custom ad blocker rule(s) and the page will load as expected.